The Best Place To Buy Sound Equipment, Lamps, Stages, Dance Floors
---
Crest Audio, Inc is an American firm that produces sound equipment, including audio mixers, power amplifiers, and loudspeakers. Crest Audio was founded in the late 1970s by Jean-Pierre Prideaux in California.
---

It was originally part of a touring sound system that over the years has toured with bands and artists such as Motorhead, Snoop Dogg and Red Hot Chili Peppers just to name a few. 
This is an old timer so cosmetically has a few imperfections a re-carpet would give them a new lease of life. All components are in full working order.
Speakers = 4x Subs, 2x Mid / high, Amps CSC ex 400, 2x Crest Audio 4801, Graphic equaliser, BSS minidrive, etc, etc.
We have a fully functional custom built system built by Audiolease Ltd. 
£2500 VAT Free ono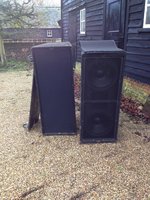 Showing 1 - 3 of 3 items