The Best Place To Buy Sound Equipment, Lamps, Stages, Dance Floors
Search
Showing 1 - 6 of 6 items

It can be easily unbolted and relocated (by you!)
This wire partition could be used to valuable stock such as drink, cigarettes and electrical goods. Or to protect dangerous or flammable substances. Or to stop your tools from going walkabout!
Size is 3,888mm wide by 2,380 high
Opening is 1m 340mm
Reasonable offers upwards of £500 please
This is the ideal way of stopping thieving little fingers from stealing your stock
£500 +VAT ono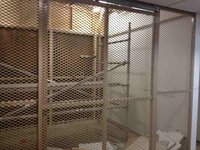 Designed to travel 2 side by side in a standard truck or trailer.
2 Set carts originally used for transport and storage of 8ft x 4ft stage decks. Runs on 8 heavy duty castors, has a removable ply top, detachable side gates and fork lift slots at one end. Measures 8'6" long x 3' 9" wide and 5 ft high.

Info and new prices
Shelf size of 600mm x 1200mm, melamine style shelves 2 bays at 2500mm height with 6 shelves and 2 bays at 2100mm height (cut down from 2500mm) with 5 shelves. All modular so shelves can be adjusted.
Racking is all still assembled so can show you it all complete, but can be broken down for transport.
MAX1 Warehouse Racking made by Big Dug
£300 +VAT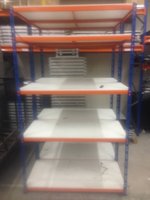 Showing 1 - 6 of 6 items