The Best Place To Buy Sound Equipment, Lamps, Stages, Dance Floors
---

---
Used as part of our podium, we now use tri so selling the quad. This auction is for 3x 4m curves and 6x corners. Overall measurement is 5m outer to outer. See pic. Has the special spigots for angles, however some have slipped inside the truss, see pic. There are scratches and a bend in one strut, see pic.

We are selling 4 x 3m long triangular truss straights with pinspots ready mounted on them, each truss has a minimum of 8 lights (a couple have 10) all wired in together, each truss can also be daisy chained.
Ideal for lighting table centres, bars, above dance floors etc.
Pin spot lighting on Trilite Truss
£999 +VAT ono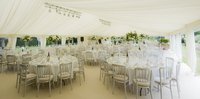 The Aluminium Trilite Truss Rig is made to be used as a lighting rig and still can be.
The set contains:
4 x 2320mm straight sections
4 x 1700mm straight sections (some are made up from smaller sections)
4 x 1700mm straight sections with T shape connect sections (made from smaller sections)
8 x 800mm Hex Angle sections
8 x thin bars (not TRILITE)
1 x central 8 way connection
I bought this lighting rig and had it made into a 6m x 6m Hexagonal festival stall by adding a roof and side canvas. I no longer have the canvas but you could get sheets made up if you want a unique Hexagonal dome structure for an exhibition stand.
£1000 +VAT ono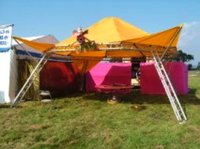 2x 3 way junction 2TR J34 apex up/down - list@ £149.50 sell@ £60.00 each
16x 2 way junction 2TRJ290 apex up/down - list@ £90.00 sell@ £40.00 each
4x 2 way junction 2TRJ290A apex in - list @ £90.00 sell @ £40.00 each
48x 100mm spacer spigot 2TR SSP10 - list @ £20.00 sell @ £05.00 each
4x base plate 2A BP3 quantity 4 - list @ 45.25 sell @ £18.00 each
2x 4 way junction 2TR J41 apex up/down - list@ £186.00 sell@ £75.00 each
£1382 +VAT Showing 1 - 5 of 5 items