The Best Place To Buy Sound Equipment, Lamps, Stages, Dance Floors
---
---
Showing 1 - 1 of 1 items

Why use 4 legs, when this devise is built to use only 1.
They are used widely in the industry.. Once you have used them you will never go back to carrying hundreds of legs.
Suitable for Litedeck and Litespace.
The units are new and have been zinc treated and powder coated in black.
Huge discounts on both 4 in 1 and 2 in 1 Leg Savers.
This years stock being sold at rock bottom prices.
Contact us for a quote.
Here we have 4 in 1 and 2 in 1 leg savers.. They are compatible with Litedeck.
POA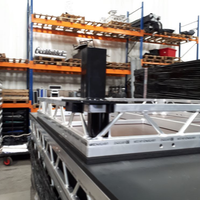 Showing 1 - 1 of 1 items