The Best Place To Buy Sound Equipment, Lamps, Stages, Dance Floors
---

---
Showing 1 - 4 of 4 items
This specific Avalon System is only 1 year old and in very good condition.
It has been installed in the Clapham Grand in London for the last 12 months but due to a change of management has now come out. It is an excellent high quality system perfect for installation in a nightclub and gives you a high class professional system, that's virtually brand new at an affordable price.
Click on this link to see the full listing and contact details
EAW originally developed their Avalon range for the Avalon Club in Boston USA this is a dance system of a very high spec.
£16400 +VAT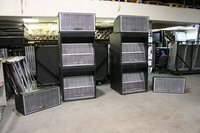 Opus Audio provide bespoke sound systems for Andrew Lloyd- Webber and Cameron Mackintosh so you can be confident that the system has been refurbed to the highest standard. The system when bought new was in excess of £250,000 and is the ultimate club sound system of the last 15 years. Standing 3metres high and 1.6 metres wide there is no more imposing sound system on the planet.
More info.....
This is an iconic Steve Dash Phazon Sound System which has undergone complete refurbishment, it is in a textured black paint finish. All drivers have been replaced to original Phazon spec, total cost of the re-furb £10,200 carried out by Opus Audio Systems 6 months ago and the system has been in storage for the last 4 months.
£19900 +VAT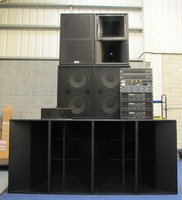 The SB1000z (2 x 18-inch) is a direct radiating, high output, large-format subwoofer system proven in complementing high efficiency, full-range loudspeakers. Driver mounting maximizes cone area and minimizes frontal area, providing acoustical performance and physical configuration well suited for creating large subwoofer arrays.

Transducer Loading: SUB 2x 18 in cone Vented

Operating Range 28 Hz to 156 Hz


Price: £850 each (ex carriage & vat)

These cabinets have been little used and are in very good condition having always been well serviced and kept in covers for transit (these will be provided with the unit).
£850 +VAT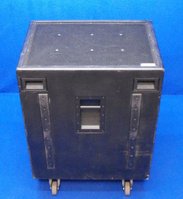 Showing 1 - 4 of 4 items