The Best Place To Buy Sound Equipment, Lamps, Stages, Dance Floors
---

---
Showing 1 - 1 of 1 items


These panels are all damaged to some extent, they either have part of the laminate slightly whitened (not sure what caused this....see pics) or they have clips missing and/or the housing for the clips damaged.

These are all full panels, there aren't any half panels or edging strips available.

Will consider any offer!
We have for sale 31 x dark outlook dancefloor panels with a trolley.
POA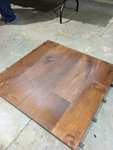 Showing 1 - 1 of 1 items