The Best Place To Buy Sound Equipment, Lamps, Stages, Dance Floors
12 listings found in all categories
Listings found in 0 categories
Listings found on 3 other partner domains

roder/roder HTS/ Custom Covers/Alresford Tech/Techtonics UK compatible.
For sale are linings/Gables or Hip/ custom covers make.
£35 +VAT each For sale is a Hazlewood 20ft x 7ft6 x 6ft 6 High curtainside trailer. It has fully galvanised chasis led lights and is in full working order. It will carry 10 pallets. Great for preloading jobs to go out. Tyres are transit size in reasonable condition any very easy to get. Tows very well empty and loaded.
£3500 +VAT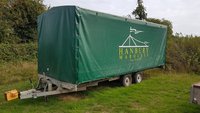 Showing 1 - 12 of 12 items