The Best Place To Buy Sound Equipment, Lamps, Stages, Dance Floors
---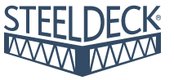 ---
Showing 1 - 7 of 7 items
£20 including VAT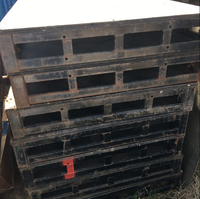 New 8'x 4' Steeldeck from £297.00
Steeldeck Staging the Original Manufacturer for the last 35 years.
High-grade British Steel with strength certified 18mm birch plywood top.
Flame retardant acoustic foam underneath wood top.
Steel is powder-coated black with rust-resistant pretreatment.
Natural birch ply top (not painted)
Legs can be supplied any size. POA.
ALL OTHER STOCK SIZES INCLUDING METRIC SIZES AVAILABLE.
Bespoke sizes can be made to order and powdercoated and dispatched within a week.
Click here for more info and contact details......
£297 +VAT ono
Can sell individually or in larger quantities.
Limited amount available.
We can fit new tops if required but these are in fairly good condition as the tops have recently been renewed, as photos (could do with a coat of paint.)
The frames are also in fairly good condition but have wear and tear as you would expect with used decks.
All the decks will have had the corner post bolts checked and renewed as required.
Click here for more info and contact details......
Used Original Steeldeck 8'x4' For Sale
£225 +VAT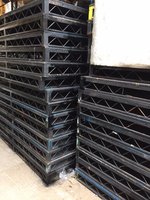 Non-standard sized Steeldeck modular staging units.£80/£100 each.
£80 +VAT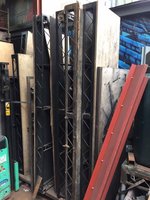 To be sold as job lot or can be broken to smaller quantities as needed.
£100 +VAT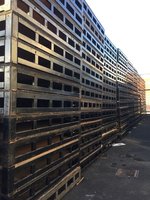 Quantity of 4' open pattern handrail, used once, some not used at all but have been stored on pallets, some slight discolouration, they are for Original Steeldeck, they have curved corners as photo.
£76 VAT Free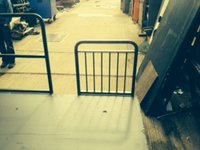 28 x 8' x 4' Sections @ £190 each (No VAT)
3 x 8' x 2' Sections @ £120 each (No VAT)
2 x 4' x 4' Sections @ £120 each (No VAT)
These genuine Steeldecks are all in first class condition.
Many of the frames have protective corners to prevent the plywood tops from being damaged.
All of the decks have foam on the underside.
Click on this link to see the full listing and contact details
£120 +VAT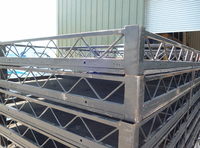 Showing 1 - 7 of 7 items