The Best Place To Buy Sound Equipment, Lamps, Stages, Dance Floors
---

https://www.chauvetlighting.com
---
Showing 1 - 6 of 6 items

A 75-watt LED and superior optics make this fixture considerably brighter than most higher watt LED fixtures currently on the market.
This feature-packed moving head includes a motorized focus for projecting crisp, rotating gobos from most distances. A rotating 3-facet prism splits the beam for maximum effects and coverage, while interchangeable gobos let you vary and customize the show.
Feature packed, 75W LED moving head spot - Motorized focus allows the rotating gobos to be crisp when projected at most distances - 3-facet rotating prism splits the beam for great effects and to cover a larger area.
Secondhand and boxed Chauvet Intimidators 350
---
16 x Chauvet Colorband PIX IP Rated LED Battern
£130 +VAT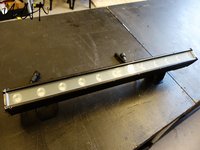 These are the same unit as the Chauvet Well up-lighter made in the same factory with all the same features. The original aerial design caused them to get broken off regular so we purchased a modification from Showtec which works just as good without any breaking problems. Each case has Powercon in/out connectors for daisy chain charging.
These lights and cases are in first class condition and full working order.
Price for 10 Up-lighters in 3 charging flight cases £2,000 ONO Or 1 case of 4 lights for £950 + vat
Click here for more info and contact details......
We have 3 flight cases of 4 Showtec Eventspot 1900 Mk1 Battery/ Wireless LED Up-Lighters which are just over 2 years old.
£2000 +VAT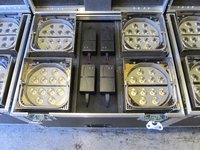 Showing 1 - 6 of 6 items