The Best Place To Buy Sound Equipment, Lamps, Stages, Dance Floors
Search
Showing 1 - 6 of 6 items
Retractable Belt Barrier In black or red strap and Chrome Barrier post with Barrier Rope they are in fear condition
£20 ono including VAT Each section is 1 meter wide and has a extension to make it suitable for 4 ft decks.
I understand that the barriers meet the "NEC" specs as they were purpose made for a stage at the NEC.
Price is £45:00 per section including an extension but we are happy to negotiate a bundle price if you are looking to purchase all the sections
No bolts/nuts are included.
Stage hand rail sections for sale
£45 +VAT ono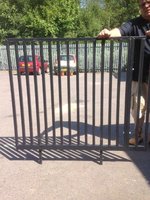 Each barrier is 180cm wide, 120cm high, and weight of 60kg each the barriers fold up for transport to around 10 cm deep.
We have used the barriers on one event, they in as new condition always stored warehouse.
Selling as a complete set will not split.
For sale 10x stage barriers manufactured by Lumex.
£2000 +VAT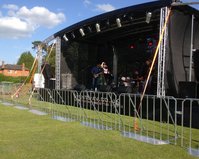 Showing 1 - 6 of 6 items